Preserving a heritage entails the safeguarding of various links to the cultural legacies an entity holds. To understand the value of a place, as is with historic New Manila, one only needs to dig deep into times past and unravel the milestones entrenched within.

New Manila is widely known as a crop of land situated in Quezon City, where the elite are housed in a tree-lined environment encased in the nostalgic glory of pre-war gentrified living. To give an idea of how rich New Manila's history is, we've managed to unearth and compile remarkable facts that give justice as to why it remains to be the address of choice for people looking to reside in affluence and exclusivity.
From Friar Lands to a Grand Estate
Before the war, the New Manila we see today was once a vast hinterland, bare and humbly undeveloped. Spanish settlement began with the first capital, Manila, the old world of Intramuros. Fields surrounding it then became friar lands.
At the dawn of a new era, one brought by the American occupation, these fields were bought by the Americans and sold to the country's elite, during a time when Manila had apparently reached its peak, having housed enough progress that resulted in pollution and noise.
People needed an escape, a place of residence that afforded them peace and quiet. In the 1920's, the land called San Juan earned the title of Little Baguio, owing to roads that wind on hills where the weather was cooler. Many families from central Manila had their vacation houses here, due to it being accessible as a second home for family members afflicted with tuberculosis, the most prevalent disease back then. The air in San Juan was fresher for recuperation.
With Quezon City declared as the new capital, far from the borders of Intramuros, New Manila stood as a veritable bridge that offers tranquility, and a proximity that connected the old with the new. Thus, the story of New Manila began.
Hacienda Magdalena
In the 1930's, Doña Magdalena Hemady, a Lebanese elite, developed a hacienda in the outskirts of San Juan into a large scale subdivision. She called it the Magdalena estate, which eventually grew to become New Manila.
The lots along the main avenues Victoria, Broadway, Gilmore, and Pacific (called Doña Hemady today) were cut in no less than two thousand square meters per corner. The lots on the side streets named 1st up to 13th (after streets in New York) measured at a thousand square meters each. Having planted mango trees on both sides of its main avenues, Doña Hemady had the ambition of creating an exclusive residential area that featured big lots and shaded roads. The Ayalas patterned Forbes Park in the 50's after this.

New Manila has its heritage. It was, and still is, home to residents who value stillness, a quiet sense of exclusivity. "To develop a project hinged on that exquisite sense of reprieve, of simple comforts, never lavish nor extravagant, is what we consider a privilege," shares Andrew Alcid, CEO of PhilRealty, the person responsible for One Balete, a two-hectare, five-tower compound that rests inside New Manila's tree-shaded locale. Poised to offer multi-generational living, One Balete stands as the latest embodiment of PhilRealty's legacy in building homes renowned for spacious living within intimate and well-curated communities. This stems from the fact that they provide low-density developments that offer the most generous space in an upscale market segment. But more than spatial architecture, PhilRealty exceeds in cultivating communities that support fine living. "It is every bit visual as it is experiential," shares Alcid. "Designing communities involve a meticulous understanding of how the trajectories of culture, heritage, commercial ease, and residential comfort intersect and blend into a fine address."
Residents of Renown
Doña Magdalena came over at the turn of the century and married first into a Lebanese emigrate named Hashim. Hashim owned the Manila Grand Opera house, and together, they were part of the elite society of Manila in the 1910's. Part of their lineage is the Ysmael clan who founded the once leading manufacturer of electric appliances Ysmael Steel.
Victoria Street was named after their daughter while Gilmore was named after the 1920 acting governor- general Eugene Allen Gilmore. Meanwhile, after the war, New Manila became one of the places President Quezon and his family resided.
It was in 1937 when New Manila gained recognition as the Hollywood of the Philippines, largely because of housing the headquarters of Sampaguita Pictures, one of the first companies that produced original Filipino films. Pilita Corales was just one among many golden age stars who chose to reside in New Manila to be close to the studios, including Sampaguita's rival, LVN, which happened to be situated near Cubao. A place of fame and prestige, New Manila became the address where people hoped to catch a glimpse of the stars.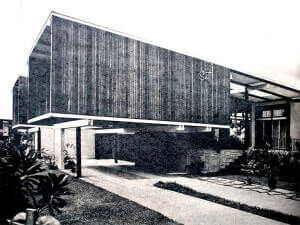 Era of Innovation
After the Second World War, New Manila's location hid it from the perils of battle, away from the urban center, allowing it to survive with minimal ruin and providing refuge for its wealthy inhabitants. It was then that New Manila gained prominence as the most expensive and sought after residential land available; retaining the title only up until Makati and Quezon City embraced further development in the '50s.
The post war era shaped the New Manila landscape anew. Schools, churches, even hospitals began sprouting, inviting more residents to move in. This included institutional landmarks like Mount Carmel Shrine, Saint Paul College, Saint Joseph's Convent of Perpetual Adoration and a lot more.
The 60's welcomed a time where people marveled in awe at the bursts of advancements emerging in stride. Christmas consisted of a gleeful visit to the front lawn of Ysmael Steel's manufacturing plant, where people are greeted by a festively decorated giant metal robot. Ysmael Steel also once had a seemingly prototypical construct of a large spaceship that moved up and down—a treat that drew lines of people wanting to experience technology firsthand.
Beverage brand Pepsi and frozen treats company Magnolia also built plants within the vicinity. They completed the list of industrial brands that featured wide front lawns for accommodating curious people who want to witness modern machinations move through large, glass walls. A simpler time, after all, called for much simpler forms of entertainment.
It is in these aspects, these pockets of legacies where the authenticity of New Manila lies. With a history brimming with distinct milestones that add weight to its historic distinction, New Manila truly forged a name for itself as the benchmark of elegant living.