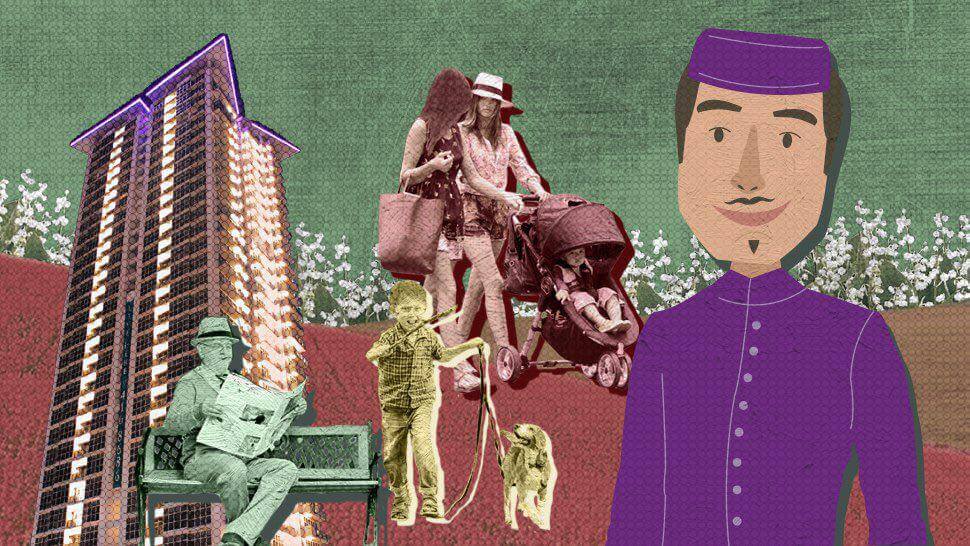 A good neighbor goes beyond the curt smile and the welcome gift.
Remember: Living in a high-rise doesn't exempt you from the rules that govern big neighborhoods. Here, we share our top tips on being a congenial member of your vertical community.
1. Be more than polite.
Sure, a wave and smile is fine, but a verbal recognition of your neighbor's existence is infinitely better. Also, make it a point to know the names of the employees in your high-rise, even if they're technically not your neighbors. The concierge, security, maintenance staff, and parking attendants are part of your community, too.
2. But do respect boundaries.
Two things to remember: walls and floors. What sounds fine inside your apartment can be obnoxious beyond your walls and underneath your floors. Yes, daytime tolerates the melody of life's activities. But after eight in the evening, when your neighbors are starting to unwind, please keep sounds to a pleasant murmur.
3. Keep shared spaces sacred.
Apply the same fastidiousness at the lobby, the pool area, the hallways, and other communal spaces as you would in your own home. That means keeping public places spick-and-span every time you use them. Keep in mind, too, that you share spaces, so never engage in behavior best left behind closed doors. That means: Mind your manners.
4. Mind your little ones.
'Little ones' can refer to your darlings: children and pets. It is the duty of good neighbors to teach the golden rules of discipline to their kids. As for pets, keep them on a leash and clean up after them if they make a mess. That way, they always leave a good impression and seem friendly to other neighbors.
5. Socialize, socialize, socialize!
It would be a shame to stay cooped up in your plush abode when surely there are friendships waiting to be built out there. You'll never know whom you have similar interests with if you don't talk to anyone. And they may never know that beneath your mask of confidence is a soft heart that lives for the romance in Victoria.
6. Go above and beyond when needed.
The thrill of life is in the unexpected moments. When your neighbor knocks on your door to ask you a favor, see how you can help. It's the kindest thing to do, after all. Who knows, it'd be over before you know it.
7. Be present in your vertical community.
Playing a role in your building's property board or condo corp shows that you care about being part of your exclusive community. It's not as hard as you think. Just carve out time to attend social events, add your voice during a meeting, and remember to vote on the important issues. Also, being part of the group can help solve community issues quicker and more amicably.
Regardless of how often you meet your neighbors at SkyVillas at One Balete, the New Manila residential tower that boasts of having only two to eight apartments on each floor (read: very private), good conduct is always expected among residents.
So when you step out of your bright abode, with a high ceiling of 3.1 meters and overlarge glass windows, save yourself the trouble and follow this checklist. All it takes is a little graciousness in everyday situations like, say, waiting for the high-speed elevators with your neighbor. A dose of niceness truly enhances social relations. And isn't that what we all want where we live?
Article from: townandcountry.ph